The story of Jacob and Esau
In this week's Sunday family pack we join together to look at the story of the story of Jacob and Esau. What differences can you find between Jacob and his twin Esau?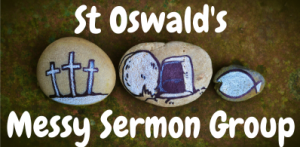 Messy Sermon Group family activity 12 July
Are you going to make a stew or have a 3 legged race ?  We would love to see your Family Crests or your colouring so why not message them to  us on our Facebook Page or e.mail them to us on stoswaldsknuzden@outlook.com and we can share them.
There will be packs like these available for the children when we return to Church on 26th July but don't worry if you don't feel confident to join us just yet we will still upload them every week.
These and other activities can be found on our Church Facebook Page also why not follow our Community Hall Facebook Page for information on our local Community
Isaac & Rebekah clipart attribution to Richard Gunther (www.richardgunther.org)